Experience, Quality, Trust
We Specialize In Luxury, Exotic, Classic, High-Value Vehicles

CHANGE THE COLOR OF YOUR CAR!
Plasti Dip is a product utilized for cars, rims, wheels and accessories to PROTECT/CUSTOMIZE their original surfaces. Plasti Dip is a high-quality product that is resistant to sun fading, winter ice, cold, and salt.
Full Dips:
Compact Cars - Starting @ 550.00
Mid Sized Cars - Starting @ 600.00
Large Cars/Wagons - Starting @ 700.00
SUVs - Starting @ 800.00
Truck - Starting @ 850.00
Please Call For Pricing On Other Services

FAQ:
- How long does Plasti Dip® last? If properly applied, Plasti Dip® will last as long as 3 years without having to be retouched. It is very durable and will not lose it's bond. The spray distance when applying as well as the amount of coats applied will heavily determine the longevity of the product. After 3 years, or during the three years if desired, a new refresher coat can be easily applied.
- Does it really peel off? Yes, Plasti Dip® really does peel off. We always suggest a minimum of 4-5 coats, not only for durability, but to make sure it peels off in large pieces when you are ready. .
- Will it hold up to the elements (sun, winter)? Plasti Dip® is extremely resistant to the elements, including sun exposure, winter ice, cold, salt etc. A lot of customers actually dip their wheels and cars specifically to protect the original surfaces from the winter season. Please keep in mind however that Fluorescent and Blaze products are subject to fading after prolonged UV exposure. This only happens with these two items due to the fluorescent pigments utilized.
- Could Plasti Dip damage my clear coat? DipYourCar.com has been using Plasti Dip on cars for over 5 years, and we have experienced zero damage to the cars we have dipped, peeled and redipped. However every car, and every situation is unique. Even with Plasti Dip's great track record, we still recommend dipping a small test spot on your car before dipping the entire thing. Especially consider longer test phases with cars that have been re-painted. Every paint shop will use different types and amounts of clear coat - and Plasti Dip can't possibly guarantee the exact same result on every unique paint job.
- Can I dip my brand new or newly painted car? DYC has personally dipped new cars within 2-3 weeks off the showroom with great results - however this does not mean every case will be the same. Newly purchased cars can benefit from not only a 2-3 month waiting period before being dipped, but also a small test area before the entire vehivle is dipped. Different manufacturers use different types of paint, and have different curing times. When considering dipping a new car, please test a small area and remove the dip after 3-4 weeks to ensure the new paint is cured enough to withstand the removal process. As far as newly repainted cars, please proceed with caution. Repainted cars can vary drastically between the quality of paints and clear coats used. Testing is always suggested before dipping a repainted or repaired car.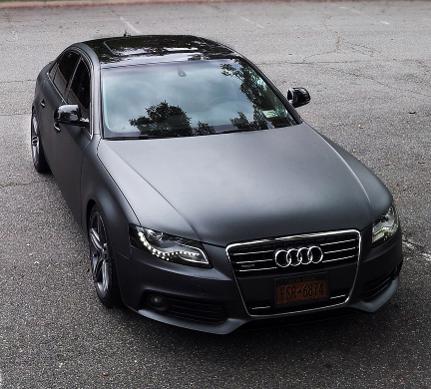 Plasti Dip Service Include:
Full Car Dips
Rims
Emblems
Exhaust Tips
Window & Vehicle Trim
Hoods/Roofs
Grills
Bumpers
Spoilers
Mirrors